Iron ore is an important raw material for steel producers. Natural ore is gradually selected from iron after crushing, grinding, magnetic separation, flotation, re-election, etc. In theory, any ore containing iron or iron compounds It can be called iron ore, but industrially or commercially, iron ore is different from manganese ore. Iron ore does not only contain iron, but must also be of value.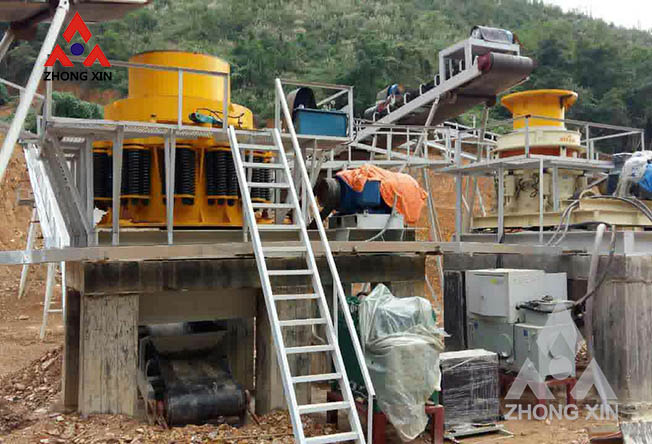 The first is
ore crushing
and grinding: China's concentrating plants generally use coarse, medium and fine broken three-stage crushing process to break iron ore. The commonly used crushing equipments include cone crusher, jaw crusher and impact crusher. The coarse-breaking multi-purpose 1.2m or 1.5m rotary crusher is used in the 2.1m or 2.2m standard cone crusher, and the 2.1m or 2.2m short-head cone crusher is used for fine crushing. The block size is not more than 1m, and then passes through the medium, finely crushed, and sieved into a final product to be sent to the grinding tank with an ore particle size of less than 12 mm.
Grinding process: China's iron ore grinding process, most of the two-stage grinding process, small and medium-sized concentrating plants use a grinding process. Due to the use of fine sifting and re-grinding new processes, some concentrators have been made by two-stage grinding in recent years. The mine was changed to three-stage grinding. The grinding equipment used is generally small.
The second is the sorting technology: magnetite ore dressing, which is mainly used to select low-grade "Anshan-style" magnetite. Because the ore is strong in magnetism and good for grinding, the domestic magnetic separation plant adopts stage grinding and multi-stage grinding. The ore process, for the coarse-grained magnetite, the former (a section of grinding), fine-grained, fine-grained magnetite is the latter (two or three stages of grinding); weak magnetic iron ore beneficiation, Mainly used to select hematite, limonite, mirror iron ore, siderite, imaginary hematite or mixed ore, also known as "red mine". This type of ore has low grade, fine grain size, minerals. The composition is complicated and the selection is difficult. After the 1980s, the beneficiation technology has been continuously improved on the process of roasting magnetic separation, wet magnetic separation, weak magnetic flotation and re-election, equipment and new varieties of chemicals, so that the concentrate grade, The metal recycling rate continues to increase. For example, the Anshan Iron and Steel Qidashan Concentrator uses a new process of weak magnetic-strong magnetic-flotation.
Iron ore beneficiation is mainly based on magnetic separation, and the basic requirement of magnetic separation is the magnetic properties of minerals. Magnetite can be directly magnetically selected to obtain iron concentrates, if it is other iron ore such as hematite or limonite. In order to obtain an iron concentrate of 65 or more grades, it is reduced to magnetite by magnetization roasting for magnetic separation. If the content of impurities such as hematite ore is high, it is also subjected to flotation and impurity reduction.