Mine vibrating screen by the screen box, vibration motor, vibration system and chassis and other components. Screen box by the screen frame, sieve plate, liner and other components. The screen box to rely on two identical vibration motor to do the opposite direction of self-synchronous rotation, so that the support in the shock absorber on the entire screen machine to do a straight line vibration, the material from the end of the sink into the screen box, the rapid advance, loose, Complete the screening operation. The damping system consists of rubber spring and clamp, bearing seat and so on. The chassis is made up of silos and chassis.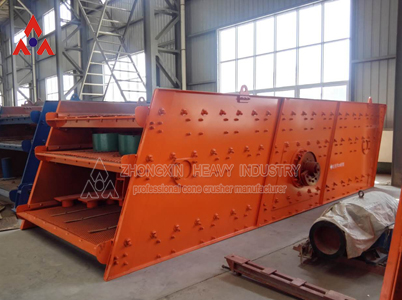 The basic requirements for the screen box:
1, mine-type vibrating screen box used bending pieces (such as side panels, reinforced beams and other components) should be repaired before bending, bending, there must be no cracks, scars and other defects;

2, the composition of the vibrating screen box side panels and beams generally do not allow splicing, in particular, not in the vertical direction of stitching;

3, screen box side plate should be flat, flatness tolerance per square meter should not be greater than 1mm;

4, the vibration sieve box made after the diagonal limit deviation per 1000mm should not exceed 1mm (measured at the installed sieve);

5, all beam length limit deviation should not exceed ± 0.5mm range;

6, adjacent two beams of the center line of parallelism tolerance in the length of the beam, each 100mm should not exceed 1mm, any two beams should not exceed 4mm;

7, the connection surface of the structure should be cleaned iron scrap, burrs and then fastening, high-strength bolts tighten the application before the use of wrench preload, and then use the torque wrench according to the standard calibration torque tightened.