Symons crushers are widely used in mining industry, metallurgy industry, construction industry, road construction industry, chemical industry and silicate industry. They are suitable for crushing hard and medium hard ore and rock such as iron ore, limestone, copper ore, Quartz, granite, sandstone and so on.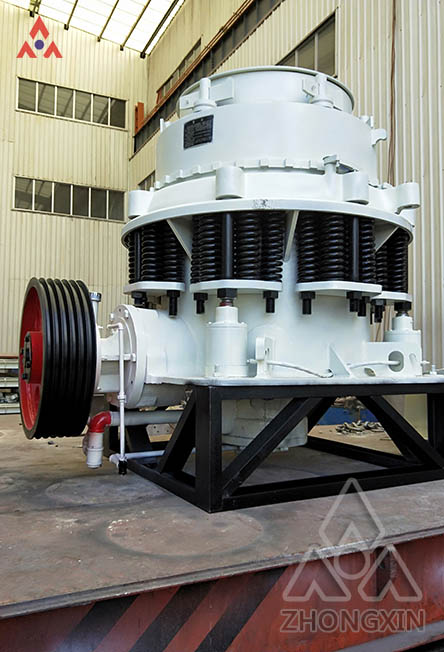 Symons cone crusher structural performance has the following aspects:
1. Symons cone crusher structure: Simmons cone crusher mainly by the rack, transmission, eccentric sleeve, bowl-shaped bearings, crushing cone, supporting sleeve, adjusting sleeve, the Ministry of spring and adjust the drainage Oral hydraulic station and the provision of lubricating oil thin oil stations and other components.
2. Symons cone crusher capacity:
Symons cone crusher
compact structure, high production efficiency, the use of bowl bearings with high precision reserves, and the use of concentrated dilute oil lubrication system, when the need to adjust the discharge port large Hour Hydraulic station can be activated by pushing the cylinder to adjust, when can not break the material into the crushing chamber, the spring safety device can protect the equipment from damage.
3. crusher work: Symons cone crusher work, the motor through the flexible coupling, drive shaft and a pair of bevel gear driven eccentric sleeve rotation, broken cone axis of the eccentric sleeve in the forced, do spin Pendulum movement, so that the broken wall of the rolling acetabular wall from time to time and sometimes away from. The ore is crushed and crushed in the crushing chamber.
4. Crusher sealing method: Symons cone crusher grease sealed to avoid improper operation caused by water and oil mixed phenomenon, when the seal wear, due to the role of the spring can be automatically compensated, still make the seal attached Together, continue to play the sealing function, when the seal wear about 1 / 4-1 / 3 the original thickness, you must replace the seal.
5. Crusher standard: Cone crusher whole machine adopts GB, GB / T or JB manufacturing, the service life of the body and wear parts all meet the standard.
6. Crusher chamber type: cone crusher generally engaged in the second, the third stage of the broken. Cone crusher according to cavity sub-standard, medium-sized, short head, short head and some are also divided into fine and more broken, and now a variety of crusher out of a lot of new cavity.