Symons cone crusher optimization of continuous improvement

Symons cone crusher is PY series spring cone crusher improvement, optimization, update replacement products. And PY series spring cone crusher compared: a reliable structure, high efficiency, easy adjustment and economic characteristics.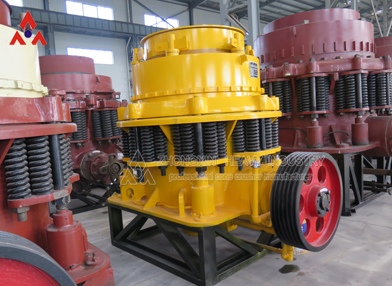 The series Symons cone crusher spring safety system is its overload protection device enables metallic foreign body through the crushing chamber without damage to the machine, in the form of dry oil seal, make powder and lubricants isolation to ensure reliable operation.

Symons cone crusher

can be widely used in metal and nonmetal mines, cement, construction, sand and metallurgical industries. , Nonferrous metal ore, granite, limestone, quartzite, sandstone, pebbles and so on.

Symons cone crusher is the emergence of a class of relatively early spring cone crusher, to cause a boom in the market. As mining machinery and equipment in one, Symons cone crusher is generally used for crushing hard rock, ore, slag, refractories, with its size and degree of fragmentation Chen product particle size, the user can adjust the line according to their actual needs from in order to achieve the best results.