Symons Cone Crusher
【Introduction】:
Type:Secondary Crushing
Input Size:30mm--460mm
Processed Materials:Limestone, Granite, Gabbro, Basalt, River Stone, Coal Gangue, Quartz, Diabase,Iron Ore, Copper Ore, Zinc Ore, Manganese Ore, etc. (for Hard Stone).
Applications:Aggregates Shaping, Mechanism sand, Bituminous Concrete, Metal Mine, Sand Making, Chemical, Road, Railway
Capacity:16-744 TPH.
Whatsapp/Wechat:+86-13676922906
Description
Symons cone crusher is widely used in the industries of metallurgy, building material, road construction, chemical engineering and silicate. It is suitable for crushing all kinds of ores and rocks with hardness of medium or above.
Symons cone crusher consists of frame, transmission device, hollow eccentric shaft, bowl-shaped bearing, crushing cone, springs and hydraulic pressure station for adjusting discharge opening. During operation, the motor drives the eccentric shaft shells to turn around through a horizontal axle and a pair of bevel gear. The axle of crushing cone swings with the force of eccentric shaft shell so that the surface of the crushing wall is close to the roll mortar wall from time to time. In this way, the ores and rocks will be pressed,crooked and crushed.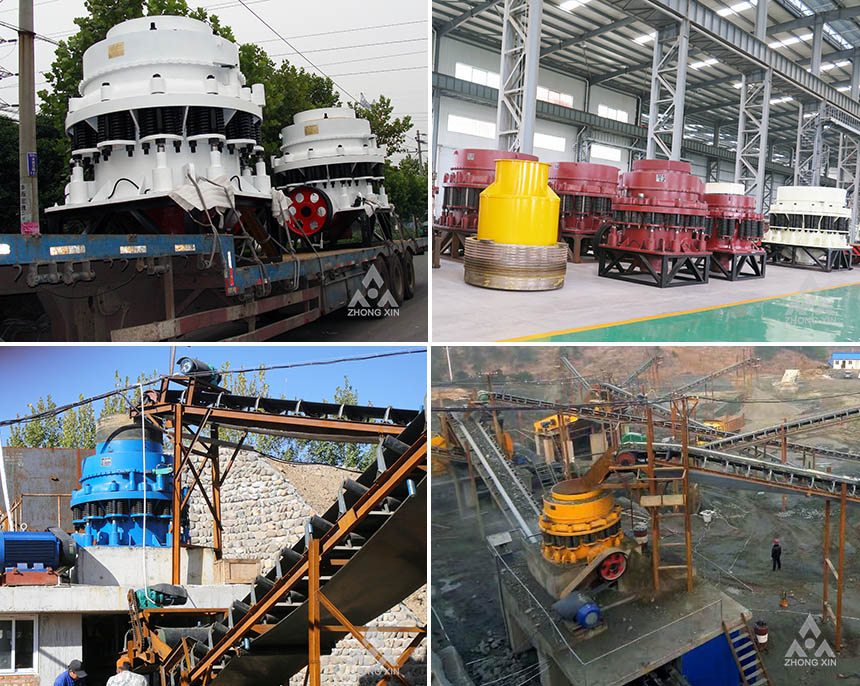 Features
1. Overload protection and easy maintenance.
2. Less consumption of wearing parts, low operating costs;
3. Reasonable structure advanced crushing principle and technical data, reliable in operation, low cost in operation;
4. Easy to maintain, reduce the downtime and maintenance costs.
5.Two kinds of crushing chamber structure, suitable for wide range of product size requirement.
6. Rare lubrication, reliable and advanced to improve life;
7. Reliable hydraulic system provides safe and effective overload protection;
8. Spare parts can be changed easily, easy maintenance and operation.
Working principle
When it is working, the motor drives the eccentric bearing bushing via spring coupling, transmission shaft and a couple of cone gear wheel. The crushing cone axis is forced to swing by the eccentric bearing bushing, which makes the mantle sometimes close to the bowl liner, and some times far away from the bowl liner. The raw materials are pressed, impacted and finally crushed in the crushing chamber.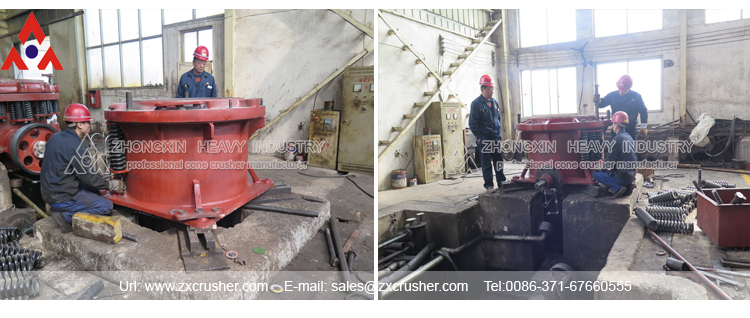 Specifications
Type

Model

Cavity Type

Diameter of cone (mm)

Adjusting Range of Discharge
Opening (mm)

Recommend feeding size when the minimum output size (mm)

Max feed
size (mm)

Capacity (t/h)

Main
Motor
Power (kw)

Weight (kg)

Overall
Dimension
(L×W×H) (mm)

2'FT

PSGB- 0607

Standard fine

600

6-38

70

60

16-50

30

4500

2195×1158×1651

PSGB- 0609

Standard medium

10-38

95

80

18-65

PSGB- 0611

Standard coarse

13-38

110

90

22-70

PSGD- 0603

Short head fine

3-13

35

30

9-35

PSGD- 0605

Short head coarse

5-16

50

40

22-70

3'FT

PSGB- 0910

Standard fine

900

9-22

102

85

45-91

75

9980

2656×1636×2241

PSGB- 0917

Standard coarse

13-38

175

150

59-163

PSGB- 0918

Standard super coarse

25-38

178

150

118-163

PSGD-0904

Short head fine

3-13

41

35

27-90

10530

PSGD-0906

Short head medium

3-16

76

65

27-100

PSGD-0907

Short head coarse

6-19

102

85

59-129

4.25'FT

PSGB- 1313

Standard fine

1295

13-31

137

115

109-181

160

22460

2983×1866×3156

PSGB- 1321

Standard medium

16-38

210

178

132-253

PSGB- 1324

Standard coarse

19-51

241

205

172-349

PSGB- 1325

Standard super coarse

25-51

259

220

236-358

PSGD-1306

Short head fine

3-16

64

54

36-163

22590

PSGD-1308

Short head medium

6-16

89

76

82-163

PSGD-1310

Short head coarse

8-25

105

89

109-227

PSGD-1313

Short head super coarse

16-25

133

113

209-236

5.5'FT

PSGB- 1620

Standard fine

1676

16-38

209

178

181-327

250

43270

3941×2954×3771

PSGB- 1624

Standard medium

22-51

241

205

258-417

PSGB- 1626

Standard coarse

25-64

269

228

299-635

PSGB- 1636

Standard super coarse

38-64

368

313

431-630

PSGD-1607

Short head fine

5-13

70

60

90-209

43870

PSGD-1608

Short head medium

6-19

89

76

136-281

PSGD-1613

short head coarse

10-25

133

113

190-336

PSGD-1614

Short head super coarse

13-25

133

113

253-336

7'FT

PSGB- 2127

Standard fine

2134

19-38

278

236

544-1034

400

86730

4613×3302×4638

PSGB- 2133

Standard medium

25-51

334

284

862-1424

PSGB- 2136

Standard coarse

31-64

369

314

1125-1814

PSGB- 2146

Standard super coarse

38-64

460

391

1252-1941

PSGD-2110

Short head fine

5-16

105

89

218-463

89500

PSGD-2113

Short head medium

10-19

133

113

404-580

PSGD-2117

Short head coarse

13-25

178

151

517-680

PSGD-2120

Short head super coarse

16-25

203

172

580-744