The cone crusher has been continuously improved from the introduction technology. Although the history is shorter than other crushers, the development is very rapid. After continuous improvement, the technology has become more and more mature and is widely used in ore processing. In particular, some hard materials, such as river pebble, granite, basalt, etc., Xinhai mining machine recently launched a new type of full hydraulic cone crusher, the technology is more mature, its main performance is the following points.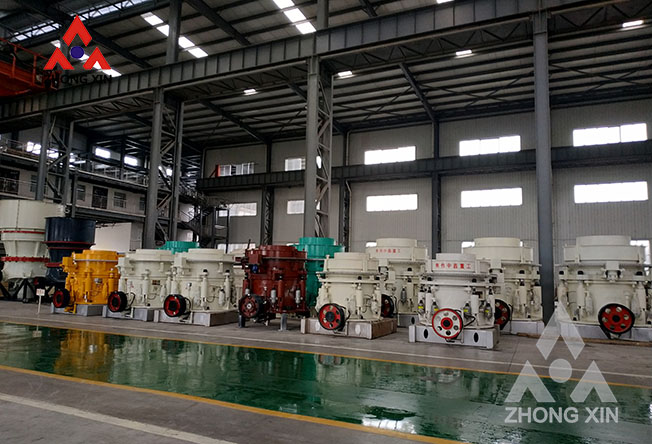 1. Breakthrough in production
The increase in output is mainly due to the special crushing chamber designed by the principle of intergranular lamination and the matching speed, which replaces the single particle crushing principle of traditional equipment, not only achieving selective crushing of various materials, but also significant The proportion of fine materials in the product is increased, and the needle-shaped material is greatly reduced. In addition, the fixed spindle design and the optimization of the crushing cavity type have improved the crushing output.
2. New international technology
The full hydraulic cone crusher adopts many modern design techniques and combines the latest foreign advanced technology to greatly improve the rated power and passing capacity. It is a new series of hydraulic cone crushers with superior performance. It has the advantages of reasonable structure, advanced technical parameters and reliable operation.
3, low operating costs
The operating cost of the equipment is the most important factor affecting the profitability of an enterprise after investment and production. The durability of the components is directly related to the operating cost of the equipment. The parts of the full hydraulic cone crusher that we have introduced are all wear-resistant and will reduce the maintenance cost. At the lowest level, it can be up to 30% longer than normal equipment. It is applied to large stone factories and solves the shortcomings of small average crushing ratio, high energy consumption and fast wear of components.
4, full hydraulic standard configuration
Simple operation, flexible adjustment, and full hydraulic configuration provide higher productivity and optimum product shape, easy to control, maximum reliability and flexibility, and can truly create value for users.
5, simplify the installation steps
New all-in-one base, all parts in the equipment can be disassembled and maintained from the top or side, and the moving cone and fixed taper are also easy to disassemble. There is no need to disassemble the frame and tighten the bolts, so the full hydraulic cone crusher It is more convenient to change the liner daily, which makes the crusher the best in production efficiency.