First of all, let's take a look at the functional characteristics and working process of the sand making machine: the material is evenly sent to the jaw crusher for rough breaking by the vibrating feeder, and the coarsely broken material is sent to the sand making machine by the belt conveyor. Further crushing, the finely crushed material is transported to the vibrating screen for screening. The material that meets the particle size requirements of the finished product is sent to the sand washing machine for cleaning. After the cleaning, the output of the finished conveyor belt is the finished product; the material that does not meet the requirements of the finished grain size is vibrated. The sieve is returned to the sand making machine for re-machining to form a closed circuit for multiple cycles. Finished product granularity can be combined and graded according to user needs. If a dry process is used, it can be equipped with a coarse powder separator and a dust removal device.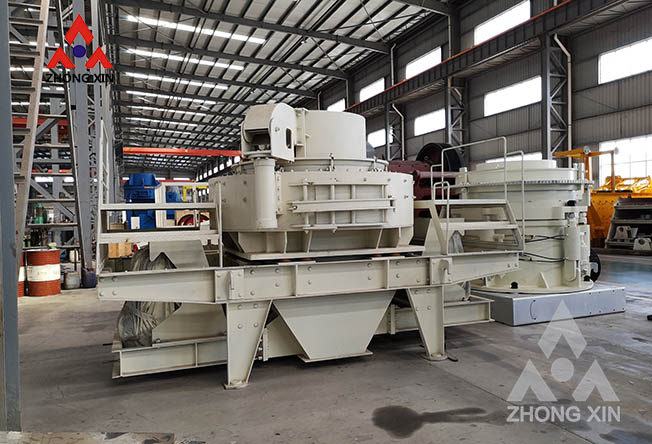 1. The eccentric bushing can be used to drive the horizontal shaft and the pulley through the bevel gear. If a metal block or other hard object enters the sandstone equipment chamber together with the ore, the fixed cone is lifted and the discharge port is enlarged to discharge it, so that accidents can be avoided to affect the efficiency.
2. All parts of the equipment in the sand making machine are made of cast steel, and the working face of the moving cone and the fixed cone is set with manganese steel lining to keep the cone from being worn, which can effectively reduce the investment of the sand making machine equipment. cost.
3. If you want to make the ore size and the ore size different, you can use the standard, medium and short heads. The main difference between the three types is that the section shape of the sand making equipment chamber is different. Therefore, in addition to the standard and short head conical In addition to the sand equipment, the configuration of the entire production line also plays a vital role.
4. The
sand making equipment
in the sand making machine can be divided into three types: centrifugal unloading, gravity unloading and mixed unloading. Gravity discharge slower, such as limestone, clinker, etc., the production of the chain is relatively simple, suitable for transporting powdery, granular, small pieces and other abrasive materials; centrifugal discharge speed Faster, the connection with the hopper is also very strong, suitable for transporting block-shaped materials with large specific gravity, and the wear of the chain is small; the mixed discharge is transportable according to the difference of the speed of the hopper. When the material is large, but its own weight is large, the sand and stone traction members have a chain, a chain and a tape.