Vertical Shaft Impact Crusher
【Introduction】:
Type:Tertiary Crusher.
Input Size:30mm--50mm.
Processed Materials:Limestone, Granite, Gabbro, Basalt, River Stone, Coal Gangue, Quartz, Diabase,Iron Ore, Copper Ore, Zinc Ore, Manganese Ore, etc.
Applications:Aggregates Shaping, Mechanism sand, Bituminous Concrete, Metal Mine, Chemical, Road, Railway,Metallurgy, Construction, Highway, Water Conservancy.
Capacity:60-450 TPH.
Whatsapp/Wechat:+86-13676922906
Description
Vertical shaft impact crusher is widely used in fine crushing and rough grinding of metal, mineral, building aggregate, concrete, anti-fire material, glass raw material, manufactured sand and all kinds of metallurgical slug. It is also can utilized in shaping of high rank road surface.
Vertical shaft impact crusher is widely used in all kinds of minerals. It provides the high quality sand and crushed stone aggregate to the high-speed railroad, high-rise construction, municipal administration construction, water and electricity dam construction, concretes agitation station. It is the most effective machine at present. It is also applicable to crush various stones with different hardness in medium and fine crushing area. It is more advanced in intermediate hard, extra, extra hard and abrasive material crushing.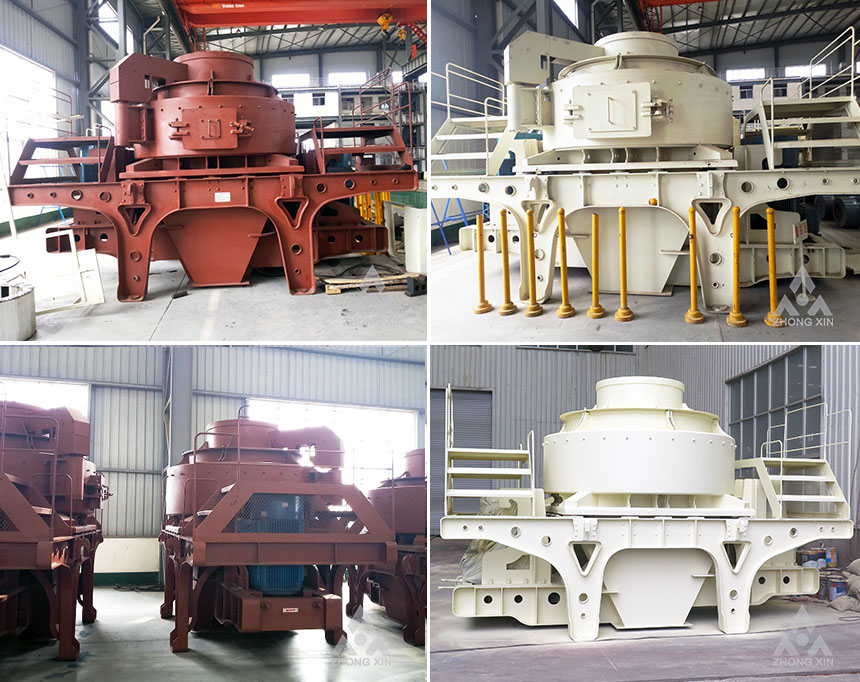 Features
1.Simple structure , lower operation cost.
2.Strong ability of through the non-crushing material, low effects by the material moisture content.
3.Suitable to crush stones with mid-hardness, high hardness, and super high hardness.
4.Mechanism for the production of sand, the gradation of finished product is in an adjustable fineness modulus.
5. It is suitable to crush midium hard, hard special materials.
6. Excellent product of cubic shape, and small fraction of elongated flaky particle shape.
7.Low weight and various installation, can be installed on mobile.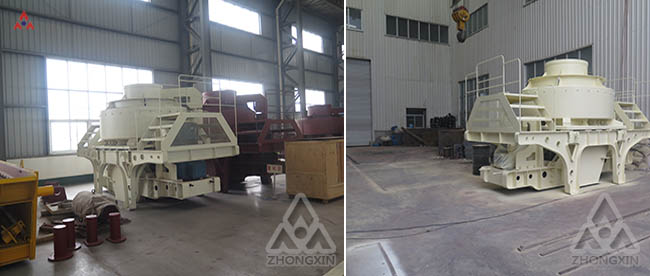 Working principle
Sand making machinery is also called Sand Maker, which is high-functioned equipment for making sand and shaping,Sand making machine raw material falls down into feed hopper, then enter into impellor through central entrance hole. It is accelarated in high-speed impellor, then is thrown out at speed of 60-75m/s. When it hits impact plate, it is crushed. Final products come downwards though outlet.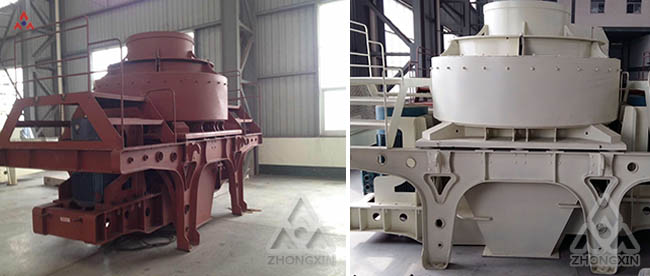 Specifications
Model

VSI 7611

VSI 8518

VSI 9526

VSI 1140

VSI 1145

VSI 1250

VSI 1263

Capacity
(t/h)

Surrounding feed and center feed

120-180

200-260

300-380

450-520

500-640

320-490

545-583

Full center feed

60-90

100-130

150-190

225-260

250-360

260-350

454-486

The max feeding size
(mm)

Soft stone

≤35

≤40

≤45

≤50

≤50

≤50

≤60

Hard stone

≤30

≤35

≤40

≤45

≤45

≤45

≤50

Speed(r/min)

1700-1930

1520-1690

1360-1510

1180-1300

1200-1390

1040-1220

900-1150

Double motor power(kW)

2Х55

2Х90

2Х132

2Х200

2Х220

2Х280

2Х315

Overall dimension
(L×W×H)mm

4100x2250x2315

4160x2300x2476

4540x2500x2911

5000x2716x3117

5450x2900x3300

6200x2830x3820

5700x2980x3530

Weight(t)

8

12

13

18.5

19.5

23

19

Lubrication station

Double oil pump motor power(kW)

2Х0.55

Security

One dual oil pump works one by one, and the standby oil pump is automatically turned on when the flow is low. High oil temperature, automatic shutdown without oil return,
Air cooler lowers oil temperature, heater warms up oil temperature in winter.
Overall dimension
(LХWХH)mm

1200Х790Х1120

Tank heater power(kW)

2
Model

PCL-600

Capacity
(t/h)

Surrounding feed and center feed

8-50

Full center feed

4-25

The max feeding size
(mm)

Soft stone

≤25

Hard stone

≤20

Speed(r/min)

2000-2500

Single motor power(kW)

45

Overall dimension
(LХWХH)mm

2500x1596x2275

Weight(t)

8

Lubrication style

Grease lubrication