Spring cone crusher is a typical device for the breakage or crushing of hard ore. Its structure and the rotary crusher is roughly the same, but its working mechanism, adjusting device, dustproof device and the safety device is different.
1, the work structure. By the manganese steel liner with broken cone and fixed cone composition. The zinc alloy is poured between the backing plate and the cone to ensure tight bonding. The crushing cone is mounted on the spindle and its lower surface is spherical and supported by spherical bearings. The lower end of the spindle is inserted into the conical hole of the eccentric sleeve and the bushing made of bronze or MC-6 nylon is used in the conical hole of the eccentric sleeve. When the motor through the bevel gear driven eccentric sleeve rotation, by the spherical bearing bearing the spindle and the broken cone for the swing movement, so as to achieve the purpose of breaking the ore.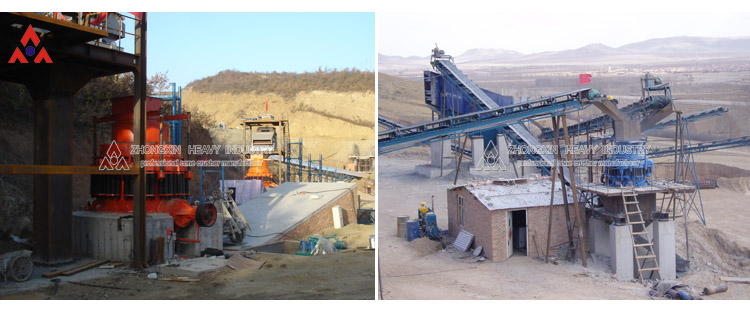 2, adjust the device. Cone crusher adjustment device is actually part of the fixed cone, by the adjustment ring, support ring lock nut, push the hydraulic cylinder, lock cylinder and piston composition. The support ring is mounted on the top of the frame and is fastened to the frame by means of a tension spring around the crusher. The support ring and the adjustment ring are serrated at the contact surface. The support ring is fitted with two pairs of claws and a pair of push hydraulic cylinders.
3, dust-proof device. Cone crusher dust device by the sink, drain, retaining ring, ring ring and retaining ring and other components. Water pump into the water tank through the inlet pipe, and then overflow to the drainage tank discharged through the drain. Due to the ring ring blocking effect, so that dust can not enter the machine and fall into the sink by the circulating water away, so as to protect the purpose of the transmission parts of the machine.
4, the insurance device. The spring safety cone crusher is made of a spring mounted around the frame for safety. When the crusher is overloaded, the support ring and the adjustment ring supported on the spring are forced to lift upwards to compress the spring, so that the discharge port size increases and the non-crushed material can be discharged, and then the support ring And adjust the ring automatically reset, you can re-broken.