Spring Cone Crusher
【Introduction】:
Type:Secondary Crushing
Input Size:36mm--300mm
Processed Materials:Limestone, Granite, Gabbro, Basalt, River Stone, Coal Gangue, Quartz, Diabase,Iron Ore, Copper Ore, Zinc Ore, Manganese Ore, etc. (for Hard Stone).
Applications:Aggregates Shaping, Mechanism sand, Bituminous Concrete, Metal Mine, Sand Making, Chemical, Road, Railway
Capacity:15-1000 TPH.
Whatsapp/Wechat:+86-13676922906
Description
Spring Cone Crusher is a kind of crushing machine commonly used in mining, metallurgical industry, construction, road construction and chemical industry. It can be used to crush hard and medium hard minerals, rocks, iron ores, limestone, copper ores, quartz, granite, sandstones, etc. In a whole production line, usually, it is used for secondary crushing process, or first crushing.
Spring Cone Crusher adopts grease seal to isolate dust and lubricants, therefore ensure its reliable operation. According to customer demand, respectively, using standard type, medium type and short head type for coarse crushing, medium crushing and fine crushing operation.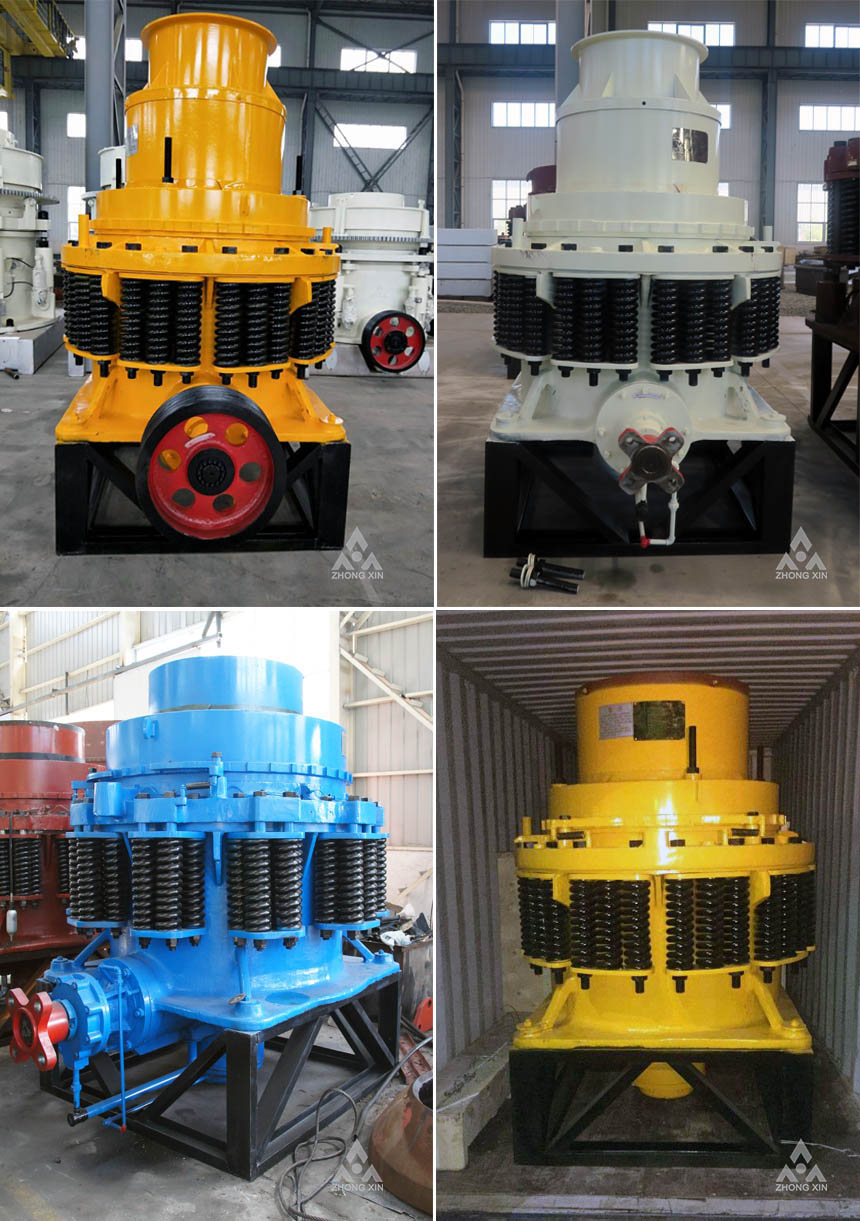 Features
1.Strong crushing force; High efficiency; High crushing capacity.
2. Newest improved design with our own technical patent.
3.As spare parts selection and structural design is reasonable, the lifespan will be longer.
4.Different types of crushing chambers to satisfy different customers' requirement.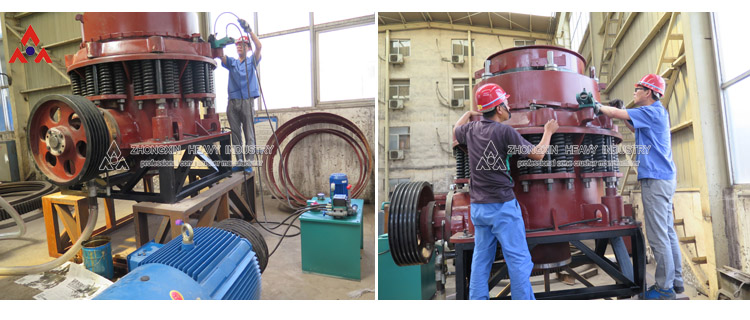 Working principle
Spring Cone Crusher is between fixed cone plate and movable cone plate. The motor drives the horizontal axis of the quarry crusher through triangle belt and pulley, the horizontal axis drive the eccentric shaft bush to rotate through gear transmission.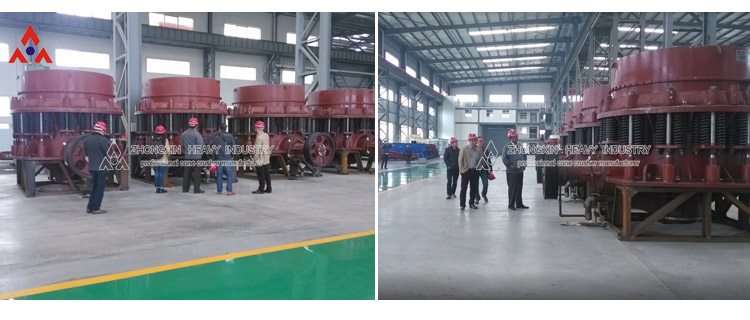 Specifications
Type

Dia. of Cone

(mm)

Adjusting Range

of Discharge Opening

(mm)

Max Feed Size

(mm)

Capacity (t/h)
Motor Power (kw)
Weight (t)

Overall Dimension

(mm)

PYB-600
600
12-25
65
15-25
30
5.5
1740×1225×1940
PYD-600
3-13
36
5-23
30
5.5
1740×1225×1940
PYB-900
900
15-50
115
50-90
55
10.18
1990×1640×2380
PYZ-900
5-20
60
20-65
55
10.19
1990×1640×2380
PYD-900
3-13
40
15-50
55
10.27
1990×1640×2380
PYB-1200
1200
20-50
145
110-200
110
24.7
2805×2300×2980
PYZ-1200
8-26
100
50-150
110
25
2805×2300×2980
PYD-1200
3-15
50
18-105
110
25.6
2805×2300×2980
PYB-1750
1750
25-60
215
280-480
155-160
50.6
3610×2950×4185
PYZ-1750
10-30
185
115-320
155-160
51
3610×2950×4185
PYD-1750
5-15
85
75-230
155-160
50.5
3610×2950×4185
PYB-2200
2200
30-60
300
590-1000
260-280
84
4790×3430×5080
PYZ-2200
10-30
235
200-580
260-280
85
4790×3430×5080
PYD-2200
5-16
110
120-370
260-280
85
4790×3430×4852